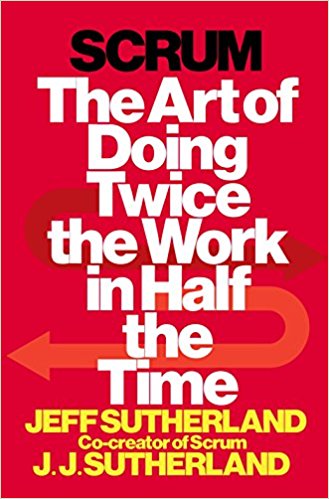 Scrum: The Art of Doing Twice the Work in Half the Time
For those who believe that there must be a more agile and efficient way for people to get things done, here is a brilliantly discursive, thought-provoking book about the leadership and management process that is changing the way we live.

In the future, historians may look back on human progress and draw a sharp line designating "before Scrum" and "after Scrum." Scrum is that ground-breaking. It already drives most of the world's top technology companies. And now it's starting to spread to every domain where leaders wrestle with complex projects.

If you've ever been startled by how fast the world is changing, Scrum is one of the reasons why. Productivity gains of as much as 1200% have been recorded, and there's no more lucid – or compelling – explainer of Scrum and its bright promise than Jeff Sutherland, the man who put together the first Scrum team more than twenty years ago.

The thorny problem Jeff began tackling back then boils down to this: people are spectacularly bad at doing things with agility and efficiency. Best laid plans go up in smoke. Teams often work at cross purposes to each other. And when the pressure rises, unhappiness soars. Drawing on his experience as a West Point-educated fighter pilot, biometrics expert, early innovator of ATM technology, and V.P. of engineering or CTO at eleven different technology companies, Jeff began challenging those dysfunctional realities, looking for solutions that would have global impact.

In this book you'll journey to Scrum's front lines where Jeff's system of deep accountability, team interaction, and constant iterative improvement is, among other feats, bringing the FBI into the 21st century, perfecting the design of an affordable 140 mile per hour/100 mile per gallon car, helping NPR report fast-moving action in the Middle East, changing the way pharmacists interact with patients, reducing poverty in the Third World, and even helping people plan their weddings and accomplish weekend chores.

Woven with insights from martial arts, judicial decision making, advanced aerial combat, robotics, and many other disciplines, Scrum is consistently riveting. But the most important reason to read this book is that it may just help you achieve what others consider unachievable – whether it be inventing a trailblazing technology, devising a new system of education, pioneering a way to feed the hungry, or, closer to home, a building a foundation for your family to thrive and prosper.
Agile Contracts: Creating and Managing Successful Projects with Scrum
Approximately 50 percent of software developers use Scrum, an iterative and incremental development method for managing software projects and product or application development, in their work. The benefit of Scrum and other Agile methods is that they can address shifts in a large project that traditional managerial methods cannot.
Written by pioneers and leaders in the field of Agile and Scrum, Agile Contracts is the only book dedicated exclusively to the legal, procurement, and project management considerations of Agile contracts. Providing templates, a toolbox, and examples of Agile fixed-price contracts, the book presents an alternative option to fixed-price, time-based, and supply-based contracts—reducing the risk for both the supplier and the customer with a contract that offers the possibility of flux and flexible scenarios as a project progresses.
Agile Contracts features in-depth chapter coverage of:
The Agile Manifesto of 2001
Agility from the perspective of procurement and the software provider
The problems with traditional fixed-price contracts and time material contracts
What the Agile fixed-price contract is and how it is set up
Tendering based on the Agile fixed-price contract
How to negotiate an Agile fixed-price contract
Special guidelines for the legal framework of an Agile fixed-price contract
Adaptable Scope System
The Black Swan scenario
Contracts and procedures for the featured methodologies
Especially applicable within highly structured business organizations, Agile Contracts is a must-read for project managers, agile practitioners, procurement representatives, and IT lawyers.
The Art of Agile Development: Pragmatic Guide to Agile Software Development
The Art of Agile Development contains practical guidance for anyone considering or applying agile development for building valuable software. Plenty of books describe what agile development is or why it helps software projects succeed, but very few combine information for developers, managers, testers, and customers into a single package that they can apply directly.

This book provides no-nonsense advice on agile planning, development, delivery, and management taken from the authors' many years of experience with Extreme Programming (XP). You get a gestalt view of the agile development process, including comprehensive guidance for non-technical readers and hands-on technical practices for developers and testers.

The Art of Agile Development gives you clear answers to questions such as:
How can we adopt agile development?
Do we really need to pair program?
What metrics should we report?
What if I can't get my customer to participate?
How much documentation should we write?
When do we design and architect?
As a non-developer, how should I work with my agile team?
Where is my product roadmap?
How does QA fit in?
The book teaches you how to adopt XP practices, describes each practice in detail, then discusses principles that will allow you to modify XP and create your own agile method. In particular, this book tackles the difficult aspects of agile development: the need for cooperation and trust among team members.

Whether you're currently part of an agile team, working with an agile team, or interested in agile development, this book provides the practical tips you need to start practicing agile development. As your experience grows, the book will grow with you, providing exercises and information that will teach you first to understand the rules of agile development, break them, and ultimately abandon rules altogether as you master the art of agile development