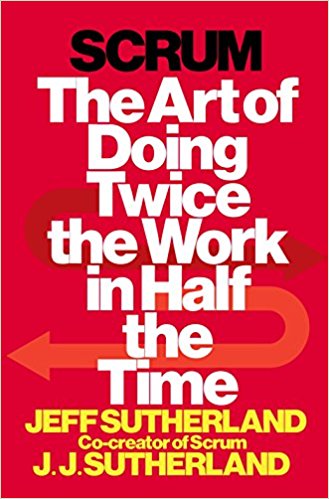 Scrum: The Art of Doing Twice the Work in Half the Time
For those who believe that there must be a more agile and efficient way for people to get things done, here is a brilliantly discursive, thought-provoking book about the leadership and management process that is changing the way we live.

In the future, historians may look back on human progress and draw a sharp line designating "before Scrum" and "after Scrum." Scrum is that ground-breaking. It already drives most of the world's top technology companies. And now it's starting to spread to every domain where leaders wrestle with complex projects.

If you've ever been startled by how fast the world is changing, Scrum is one of the reasons why. Productivity gains of as much as 1200% have been recorded, and there's no more lucid – or compelling – explainer of Scrum and its bright promise than Jeff Sutherland, the man who put together the first Scrum team more than twenty years ago.

The thorny problem Jeff began tackling back then boils down to this: people are spectacularly bad at doing things with agility and efficiency. Best laid plans go up in smoke. Teams often work at cross purposes to each other. And when the pressure rises, unhappiness soars. Drawing on his experience as a West Point-educated fighter pilot, biometrics expert, early innovator of ATM technology, and V.P. of engineering or CTO at eleven different technology companies, Jeff began challenging those dysfunctional realities, looking for solutions that would have global impact.

In this book you'll journey to Scrum's front lines where Jeff's system of deep accountability, team interaction, and constant iterative improvement is, among other feats, bringing the FBI into the 21st century, perfecting the design of an affordable 140 mile per hour/100 mile per gallon car, helping NPR report fast-moving action in the Middle East, changing the way pharmacists interact with patients, reducing poverty in the Third World, and even helping people plan their weddings and accomplish weekend chores.

Woven with insights from martial arts, judicial decision making, advanced aerial combat, robotics, and many other disciplines, Scrum is consistently riveting. But the most important reason to read this book is that it may just help you achieve what others consider unachievable – whether it be inventing a trailblazing technology, devising a new system of education, pioneering a way to feed the hungry, or, closer to home, a building a foundation for your family to thrive and prosper.
Agile Retrospectives: Making Good Teams Great
Project retrospectives help teams examine what went right and what went wrong on a project. But traditionally, retrospectives (also known as "post-mortems") are only held at the end of the project—too late to help. You need agile retrospectives that are iterative and incremental. You need to accurately find and fix problems to help the team today.

Now Esther and Diana show you the tools, tricks and tips you need to fix the problems you face on a software development project on an on-going basis. You'll see how to architect retrospectives in general, how to design them specifically for your team and organization, how to run them effectively, how to make the needed changes and how to scale these techniques up. You'll learn how to deal with problems, and implement solutions effectively throughout the project—not just at the end.

This book will help you:

Design and run effective retrospectives
Learn how to find and fix problems
Find and reinforce team strengths
Address people issues as well as technological
Use tools and recipes proven in the real world
With regular tune-ups, your team will hum like a precise, world-class orchestra.
Agile Contracts: Creating and Managing Successful Projects with Scrum
Approximately 50 percent of software developers use Scrum, an iterative and incremental development method for managing software projects and product or application development, in their work. The benefit of Scrum and other Agile methods is that they can address shifts in a large project that traditional managerial methods cannot.
Written by pioneers and leaders in the field of Agile and Scrum, Agile Contracts is the only book dedicated exclusively to the legal, procurement, and project management considerations of Agile contracts. Providing templates, a toolbox, and examples of Agile fixed-price contracts, the book presents an alternative option to fixed-price, time-based, and supply-based contracts—reducing the risk for both the supplier and the customer with a contract that offers the possibility of flux and flexible scenarios as a project progresses.
Agile Contracts features in-depth chapter coverage of:
The Agile Manifesto of 2001
Agility from the perspective of procurement and the software provider
The problems with traditional fixed-price contracts and time material contracts
What the Agile fixed-price contract is and how it is set up
Tendering based on the Agile fixed-price contract
How to negotiate an Agile fixed-price contract
Special guidelines for the legal framework of an Agile fixed-price contract
Adaptable Scope System
The Black Swan scenario
Contracts and procedures for the featured methodologies
Especially applicable within highly structured business organizations, Agile Contracts is a must-read for project managers, agile practitioners, procurement representatives, and IT lawyers.
Management 3.0: Leading Agile Developers, Developing Agile Leaders
In many organizations, management is the biggest obstacle to successful Agile development. Unfortunately, reliable guidance on Agile management has been scarce indeed. Now, leading Agile manager Jurgen Appelo fills that gap, introducing a realistic approach to leading, managing, and growing your Agile team or organization.
Writing for current managers and developers moving into management, Appelo shares insights that are grounded in modern complex systems theory, reflecting the intense complexity of modern software development. Appelo's Management 3.0 model recognizes that today's organizations are living, networked systems; and that management is primarily about people and relationships.
Management 3.0 doesn't offer mere checklists or prescriptions to follow slavishly; rather, it deepens your understanding of how organizations and Agile teams work and gives you tools to solve your own problems. Drawing on his extensive experience as an Agile manager, the author identifies the most important practices of Agile management and helps you improve each of them.
Coverage includes
• Getting beyond "Management 1.0" control and "Management 2.0" fads
• Understanding how complexity affects your organization
• Keeping your people active, creative, innovative, and motivated
• Giving teams the care and authority they need to grow on their own
• Defining boundaries so teams can succeed in alignment with business goals
• Sowing the seeds for a culture of software craftsmanship
• Crafting an organizational network that promotes success
• Implementing continuous improvement that actually works
Thoroughly pragmatic–and never trendy–Jurgen Appelo's Management 3.0 helps you bring greater agility to any software organization, team, or project.
The Art of Agile Development: Pragmatic Guide to Agile Software Development
The Art of Agile Development contains practical guidance for anyone considering or applying agile development for building valuable software. Plenty of books describe what agile development is or why it helps software projects succeed, but very few combine information for developers, managers, testers, and customers into a single package that they can apply directly.

This book provides no-nonsense advice on agile planning, development, delivery, and management taken from the authors' many years of experience with Extreme Programming (XP). You get a gestalt view of the agile development process, including comprehensive guidance for non-technical readers and hands-on technical practices for developers and testers.

The Art of Agile Development gives you clear answers to questions such as:
How can we adopt agile development?
Do we really need to pair program?
What metrics should we report?
What if I can't get my customer to participate?
How much documentation should we write?
When do we design and architect?
As a non-developer, how should I work with my agile team?
Where is my product roadmap?
How does QA fit in?
The book teaches you how to adopt XP practices, describes each practice in detail, then discusses principles that will allow you to modify XP and create your own agile method. In particular, this book tackles the difficult aspects of agile development: the need for cooperation and trust among team members.

Whether you're currently part of an agile team, working with an agile team, or interested in agile development, this book provides the practical tips you need to start practicing agile development. As your experience grows, the book will grow with you, providing exercises and information that will teach you first to understand the rules of agile development, break them, and ultimately abandon rules altogether as you master the art of agile development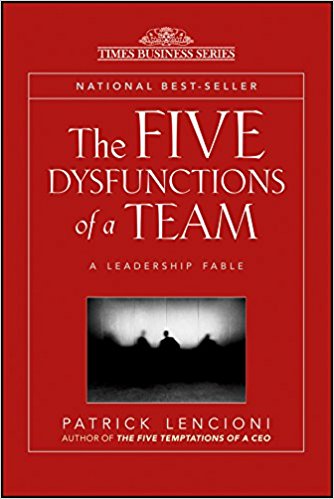 The Five Dysfunctions of a Team: A Leadership Fable
Patrick Lencioni once again offers a leadership fable that is as enthralling and instructive as his first two best-selling books, "The Five Temptations of a CEO" and "The Four Obsessions of an Extraordinary Executive". This time, he turns his keen intellect and storytelling power to the fascinating, complex world of teams.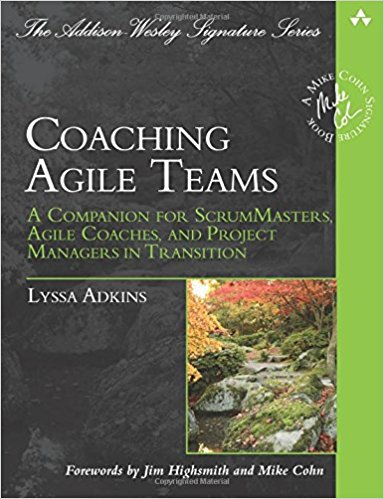 Coaching Agile Teams: A Companion for ScrumMasters, Agile Coaches, and Project Managers in Transition
As an agile coach, you can help project teams become outstanding at agile, creating products that make them proud and helping organizations reap the powerful benefits of teams that deliver both innovation and excellence.
More and more frequently, ScrumMasters and project managers are being asked to coach agile teams. But it's a challenging role. It requires new skills—as well as a subtle understanding of when to step in and when to step back. Migrating from "command and control" to agile coaching requires a whole new mind-set.
In Coaching Agile Teams, Lyssa Adkins gives agile coaches the insights they need to adopt this new mind-set and to guide teams to extraordinary performance in a re-energized work environment. You'll gain a deep view into the role of the agile coach, discover what works and what doesn't, and learn how to adapt powerful skills from many allied disciplines, including the fields of professional coaching and mentoring.
Coverage includes
Understanding what it takes to be a great agile coach
Mastering all of the agile coach's roles: teacher, mentor, problem solver, conflict navigator, and performance coach
Creating an environment where self-organized, high-performance teams can emerge
Coaching teams past cooperation and into full collaboration
Evolving your leadership style as your team grows and changes
Staying actively engaged without dominating your team and stunting its growth
Recognizing failure, recovery, and success modes in your coaching
Getting the most out of your own personal agile coaching journey
Whether you're an agile coach, leader, trainer, mentor, facilitator, ScrumMaster, project manager, product owner, or team member, this book will help you become skilled at helping others become truly great. What could possibly be more rewarding?
Executive Coaching with Backbone and Heart: A Systems Approach to Engaging Leaders with Their Challenges
Coaching high-powered executives requires something extra. Executive coaches must become partners whose emotional investment in business outcomes equals that of their clients. They must have the strength and courage to face
an organizational leader in a time of crisis and speak the unvarnished truth. They must be a force to be reckoned with. They have to have backbone and heart.
When it was first published in 2000, Mary Beth O'Neill's book Executive Coaching with Backbone and Heart helped to define the field of coaching at the senior and executive level. This second edition of O'Neill's groundbreaking book shares the secrets of O'Neill's success and details the techniques she's developed and refined over the course of her exceptional career. This edition has been thoroughly revised and expanded to include
Three Key Factors methodology for setting up client goals and the measures for those goals
Iinformation about how to involve the client's boss in the coaching contract
More extensive material on live action coaching
Commentary on the use of assessment tools and instruments
A method to work with clients on the systemic patterns they want to change
An entirely new chapter devoted solely?to calculating the ROI of coaching work with the client
And more illustrative stories
O'Neill teaches coaches how to deal with clients in terms of the "force fields" they create and react to, that is, the political and emotional climates within organizations that can ensnare both executive and coach and make for faulty decision making. O'Neill reinforces her observations on coach self-management and her systems perspective with a sound four-phase methodology for implementing both, a methodology that covers contracting, planning, live action intervening, and debriefing.
Executive Coaching with Backbone and Heart is written for anyone, no matter what their discipline or background, who is interested in helping leaders work through their dilemmas so they can transform their learning directly into results for their organizations.
Crucial Conversations Tools for Talking When Stakes Are High
Learn how to keep your cool and get the results you want when emotions flare.
When stakes are high, opinions vary, and emotions run strong, you have three choices: Avoid a crucial conversation and suffer the consequences; handle the conversation badly and suffer the consequences; or read Crucial Conversations and discover how to communicate best when it matters most. Crucial Conversations gives you the tools you need to step up to life's most difficult and important conversations, say what's on your mind, and achieve the positive resolutions you want. You'll learn how to:
Prepare for high-impact situations with a six-minute mastery technique
Make it safe to talk about almost anything
Be persuasive, not abrasive
Keep listening when others blow up or clam up
Turn crucial conversations into the action and results you want
Whether they take place at work or at home, with your neighbors or your spouse, crucial conversations can have a profound impact on your career, your happiness, and your future. With the skills you learn in this book, you'll never have to worry about the outcome of a crucial conversation again.
The first edition of Crucial Conversations exploded onto the scene and revolutionized the way millions of people communicate when stakes are high. This new edition gives you the tools to:
Prepare for high-stakes situations
Transform anger and hurt feelings into powerful dialogue
Make it safe to talk about almost anything
Be persuasive, not abrasive
Team of Teams: New Rules of Engagement for a Complex World
What if you could combine the agility, adaptability, and cohesion of a small team with the power and resources of a giant organization?

THE OLD RULES NO LONGER APPLY . . .
When General Stanley McChrystal took command of the Joint Special Operations Task Force in 2004, he quickly realized that conventional military tactics were failing. Al Qaeda in Iraq was a decentralized network that could move quickly, strike ruthlessly, then seemingly vanish into the local population. The allied forces had a huge advantage in numbers, equipment, and training—but none of that seemed to matter.

TEACHING A LEVIATHAN TO IMPROVISE
It's no secret that in any field, small teams have many ad­vantages—they can respond quickly, communicate freely, and make decisions without layers of bureaucracy. But organizations taking on really big challenges can't fit in a garage. They need management practices that can scale to thousands of people.

General McChrystal led a hierarchical, highly disci­plined machine of thousands of men and women. But to defeat Al Qaeda in Iraq, his Task Force would have to acquire the enemy's speed and flexibility. Was there a way to combine the power of the world's mightiest military with the agility of the world's most fearsome terrorist network? If so, could the same principles apply in civilian organizations?

A NEW APPROACH FOR A NEW WORLD
McChrystal and his colleagues discarded a century of conventional wisdom and remade the Task Force, in the midst of a grueling war, into something new: a network that combined extremely transparent communication with decentralized decision-making authority. The walls between silos were torn down. Leaders looked at the best practices of the smallest units and found ways to ex­tend them to thousands of people on three continents, using technology to establish a oneness that would have been impossible even a decade earlier. The Task Force became a "team of teams"—faster, flatter, more flex­ible—and beat back Al Qaeda.

BEYOND THE BATTLEFIELD
In this powerful book, McChrystal and his colleagues show how the challenges they faced in Iraq can be rel­evant to countless businesses, nonprofits, and other or­ganizations. The world is changing faster than ever, and the smartest response for those in charge is to give small groups the freedom to experiment while driving every­one to share what they learn across the entire organiza­tion. As the authors argue through compelling examples, the team of teams strategy has worked everywhere from hospital emergency rooms to NASA. It has the potential to transform organizations large and small.
Joy, Inc.: How We Built a Workplace People Love
The moment you walk into Menlo Innovations, you can sense the atmosphere full of energy, playfulness, enthusiasm, and maybe even . . . joy. As a package-delivery person once remarked, "I don't know what you do, but whatever it is, I want to work here."

Every year, thousands of visitors come from around the world to visit Menlo Innovations, a small software company in Ann Arbor, Michigan. They make the trek not to learn about technology but to witness a radically different approach to company culture.

CEO and "Chief Storyteller" Rich Sheridan removed the fear and ambiguity that typically make a workplace miserable. His own experience in the software industry taught him that, for many, work was marked by long hours and mismanaged projects with low-quality results. There had to be a better way.

With joy as the explicit goal, Sheridan and his team changed everything about how the company was run. They established a shared belief system that supports working in pairs and embraces making mistakes, all while fostering dignity for the team.

The results blew away all expectations. Menlo has won numerous growth awards and was named an Inc. magazine "audacious small company." It has tripled its physical office three times and produced products that dominate markets for its clients.

Joy, Inc. offers an inside look at how Sheridan and Menlo created a joyful culture, and shows how any organization can follow their methods for a more passionate team and sustainable, profitable results. Sheridan also shows how to run smarter meetings and build cultural training into your hiring process.

Joy, Inc. offers an inspirational blueprint for readers in any field who want a committed, energizing atmosphere at work—leading to sustainable business results.
Discover Your True North
The Leadership Classic, Discover Your True North, expanded for today's leaders
Discover Your True North is the best-selling leadership classic that enables you to become an authentic leader by discovering your True North. Originally based on first-person interviews with 125 leaders, this book instantly became a must-read business classic when it was introduced in 2007. Now expanded and updated to introduce 48 new leaders and new learning about authentic global leaders, this revisited classic includes more diverse, global, and contemporary leaders of all ages. New case studies include Warren Buffett, Indra Nooyi, Arianna Huffington, Jack Ma, Paul Polman, Mike Bloomberg, Mark Zuckerberg, and many others. Alongside these studies, former Medtronic CEO Bill George continues to share his personal stories and his wisdom by describing how you can become the leader you want to be, with helpful exercises included throughout the book.
Being a leader is about much more than title and management skills—it's fundamentally a question of who we are as human beings. Discover Your True North offers a concrete and comprehensive program for becoming an authentic leader, and shows how to chart your path to leadership success.
Once you discover the purpose of your leadership, you'll find the true leader inside you. This book shows you how to use your natural leadership abilities to inspire and empower others to excellence in today's complex global world. Discover Your True North enables you to become the leader you were born to be, and stay on track of your True North.
1. What makes 'Discover Your True North' different from other leadership books?
'Discover Your True North' is the only leadership book that offers a comprehensive approach to becoming an authentic leader – which is the gold standard for leadership today. Why? Because leading with authenticity is the best way to gain credibility with your team and to inspire people to fulfill your company's mission. Authenticity is what continually separates great leaders from those who fail.
From the 101 authentic leaders profiled in 'Discover Your True North', we learned many new things about how leaders grow: the importance of turning your crucibles into opportunities for post-traumatic growth; becoming self-aware through introspection, mindfulness and honest feedback; taking the 'I to We' journey to become a leader who serves a greater purpose; and building your global intelligence (GQ) as a global leader.
1
2
3
4
5
6
7
8
9
10
11
12